Circus Knie Fashion
Kostüme aus 100 Jahren im Textilmuseum
07.03.2019 – 19.01.2020
This exhibition contains spectacular costumes from the beginning of the last century to today. Illustrating a hundred years of circus history, the Knie family's magnificent garments are practical workwear at the same time as being highly fashionable.
Extraordinary acrobatics, awe-inspiring animal acts and clowns larking about at the edge of the ring are turned into a magical feast for the senses through imaginative and inventive costumes and accessories. In the early days of the Circus Knie, spangle-covered garments adorned the artists, who toured from one village green to the next to perform under the stars. Beneath the roof of the tent – the circus acquired its first chapiteau in 1919 – the splendid costumes of the artists have always been an essential part of the mise-en-scène, giving clowns, magicians, animal trainers and all the other members of the cast their unique character. They are highly functional and reflect, as well as toy with, contemporary fashions. Unsurprisingly many of these valuable pieces were conceived by famous costume designers and made from exquisite materials.
To celebrate the 100th anniversary of the Swiss National Circus Knie, the St. Gallen Textile Museum is exhibiting a selection of around 90 costumes from the Knie Family's private collection. The garments embody the history of the Circus Knie, which has entranced generations of spectators and has become part of the collective Swiss memory.
Curators/ Scenography: Moritz Junge, Martin Leuthold
Assistant Curator: Ilona Kos
100 Years of the Swiss National Circus Knie in the Textile Museum St.Gallen and the Swiss Museum of Transport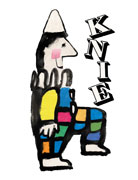 Presenting Partner
Our thanks